So there we have it, the debut EP of mash-ups by UnSub. As usual all the tracks were dwonloadable through the soundcloud player, but for your convenience here is the full 6 track EP along with artwork for you to download for free.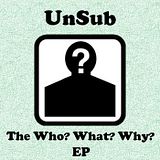 Click here to download UnSub - The Who? What? Why? EP for free from Mediafire.
Filesize - 39.12 Mb
No password needed for extraction.
Bitrate for mp3's - V0 (extreme) variable bitrate, best possible quality.
Tracklisting -
01 - The Prodigy Vs Eminem - Breathe With(out) Me
02 - Mr Oizo & Gaspard Auge Vs Slipknot - The Psycho Express
03 - Pendulum Vs Linkin Park - A New Immunization
04 - Cypress Hill Vs Slayer - An Insane Ensemble
05 - Nine Inch Nails - Close To Perfection
06 - Fear Factory Vs Will Smith - The Metal Prince Of Bel-Air
Enjoy.